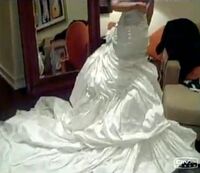 Beyoncé is notorious for being secretive about her personal life...so much so that we never got to see her wedding dress when she married Jay-Z in 2008. However, she has finally released her nostalgic video for her song "I Was Here" on Vevo. Some of the footage in this nostalgic video is of Beyoncé getting ready for her 2008 wedding.
Beyonce's wedding dress seems to be a long, strapless white number with a sweetheart neckline. Gorgeous!
What do you think? Was this dress worth the wait and the secrecy? Comment below!

Source: Yahoo.com.