Aug 1, 2012: Beyoncé to Direct and Star in Documentary
According to the
Los Angeles Times
,
Beyoncé
will soon be directing and starring in her own documentary.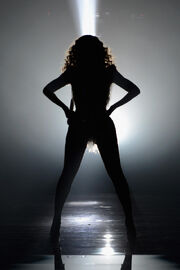 Directing is not a new skill of Beyoncé's, assisting in the production of several of her music videos including
"Party,"
and even her mini documentary,
Year of 4
that aired in the summer of 2011 on several television networks.
LA Times:
According to a person familiar with the package who was not authorized to talk about it publicly, the movie is as a mix of music and personal study, blending concert footage with confessional interview. Knowles not only stars in the project but is directing it, and will also serve as a producer. About 20 minutes of footage has been shown to distributors.
Are you excited for a new documentary featuring Queen Bey? Beyoncé recently posted a very short article on her website stating, "Leave your footprint on 19 August 2012" and perhaps this is the announcement that she will be making. We can only hope!
Full article: Source
Ad blocker interference detected!
Wikia is a free-to-use site that makes money from advertising. We have a modified experience for viewers using ad blockers

Wikia is not accessible if you've made further modifications. Remove the custom ad blocker rule(s) and the page will load as expected.