August 19, 2012 - World Humanitarian Day: I Was Here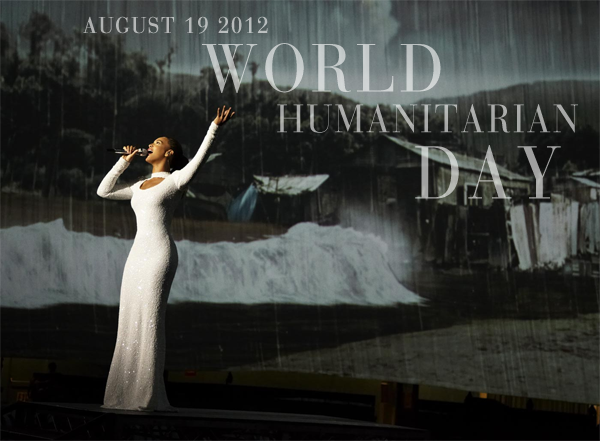 August 19 2012 - World Humanitarian Day
TODAY is the day. Where will you be? How will you leave your mark?
Beyoncé and her phenomenal team have been very dedicated to her I Was Here campaign for World Humanitarian Day this year, aiming to reach at least one billion people. As an ambassador for the United Nations, Beyoncé dedicated her Diane Warren-penned song "I Was Here" to this year's humanitarian campaign and subsequently recorded a live performance of the song.
Filmed on Friday, August 10, 2012 at the United Nations, the music video for "I Was Here" premiered a day early - August 18th - and is nothing short of perfection. Amazing vocals, a flawless ensemble and a beautiful personality, Beyoncé surely shined in the 4-minute clip.
At the time of this article being written, 12:20 AM, the ticker for the social reach of the campaign shows a total of 830,874,441 with a little less than 9 hours left until the count stops (at 9 AM EST).
[Insert special thanks to everyone involved in the making of this video, Matthew Siskin, Ms. YNS, Valerie Amos, and many others!]
Watch the video below and post your thoughts in the comment section. Also, feel free to share something special you'll be doing for someone else today. As Beyoncé said, even the smallest things count!
UPDATE: World Humanitarian Day has ended and we have passed the social reach goal of 1 billion. The ticker reads and as 1,132,204,261!
www.thunderclap.it/whd-iwashere
#IWASHERE
#WHD2012
Ad blocker interference detected!
Wikia is a free-to-use site that makes money from advertising. We have a modified experience for viewers using ad blockers

Wikia is not accessible if you've made further modifications. Remove the custom ad blocker rule(s) and the page will load as expected.