January 9, 2012
On Saturday, January 7, Beyoncé and husband Jay-Z welcomed their first child into the world, Blue Ivy Carter! Reports indicated that Beyoncé had checked into New York City's Lenox Hill Hospital on Saturday, while a large security force has been put into place for the family's privacy and safety. While the love for Blue has been universal, many notable celebrities congratulated the couple via Twitter on Saturday night, including Rihanna who tweeted:
"Welcome to the world princess Carter! Love Aunty Rih"
Friend to the famous couple, actress Gwyneth Paltrow also shared her excitement for the family:
"Welcome to the wolrd Blue! We love you already."
Last but certainly not least, Beyoncé's sister Solange said:
"The most beautiful girl in the world."
With the birth of Blue Ivy Carter, she has become a househould name across the world, with her birth sparking at least 23 subject-relating Trending Topics on Twitter within a 24 hour period. Adding to her fame, today, Blue's father released a new song titled, "GLORY" which features the cry of the newborn. In the profound lyrics of the song, Jay-Z alludes to the baby's amazing parental genes, reveals that the baby was "made" in Paris on the day preceding Beyoncé's album package shoot, and also that Beyoncé suffered a miscarriage before becoming pregnant with Blue. Take a listen to the song below and tell us what you think:thumb|300px|right
P.S. What do you think of the name Blue Ivy? Personally, I love it! Sooner or later, her parents may reveal the meaning behind the name as there have been many "theories" in the media.
P.P.S. Has Beyoncé been giving us hints about the Blue's name throughout the entire pregnancy?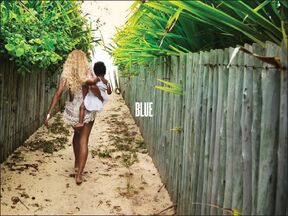 Ad blocker interference detected!
Wikia is a free-to-use site that makes money from advertising. We have a modified experience for viewers using ad blockers

Wikia is not accessible if you've made further modifications. Remove the custom ad blocker rule(s) and the page will load as expected.