August 15, 2012: Part 1: Beyoncé on AC360
Tonight on Anderson Cooper 360, Anderson Cooper sat down with Beyoncé and Valerie Amos, current UN Under-Secretary-General for Humanitarian Affairs and Emergency Relief Coordinator. The topic of discussion was Beyoncé's contribution to this year's campaign for World Humanitarian Day, August 19th. Beyoncé has been named as an ambassador, and has donated her song "I Was Here" to the cause. The interview took place before Beyoncé took the stage to film a performance/video for the single, which will be released this Sunday.
During the interview, Beyoncé explained that she enjoys doing things for others, even if it is a small deed. After the 2003 bombing in Baghdad that left a number of casualties, Beyoncé has been inclined to do her own share of honoring those who lost their lives in the line of duty.
Beyoncé wants the world to know that even small acts of kindness go a long way. Being an ambassador for the United Nations is just one of many of her contributions to society, in addition to starting The Survivor Foundation to help displaced residents following Hurricane Katrina, opening the Knowles-Rowland community outreach center in Houston, TX, food drives and several monetary donations (to name a few), here is another contribution that Beyoncé has made, according to the Wall Street Journal:
"Donated salary from Cadillac Records to the Phoenix House, the largest non-profit alcohol and drug abuse treatment and prevention facility in the nation to open a cosmetology center that offers a seven month training program for adult men and women to prepare for successful careers in the field. The cosmetology center formally named The Beyoncé Cosmetology Center was named after Beyoncé in honor of her humanitarian effort. Beyoncé will donate $100K annually to fund the center. "
Okay, enough about Beyoncé's amazingness. Watch the interview below: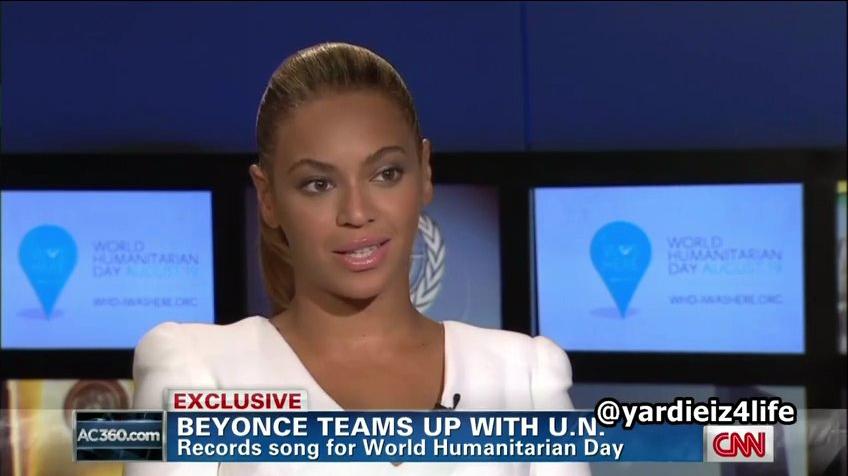 P.S. Beyoncé tweeted today for the first time since April 5th! Not once - but twice!
Ad blocker interference detected!
Wikia is a free-to-use site that makes money from advertising. We have a modified experience for viewers using ad blockers

Wikia is not accessible if you've made further modifications. Remove the custom ad blocker rule(s) and the page will load as expected.