August 11, 2012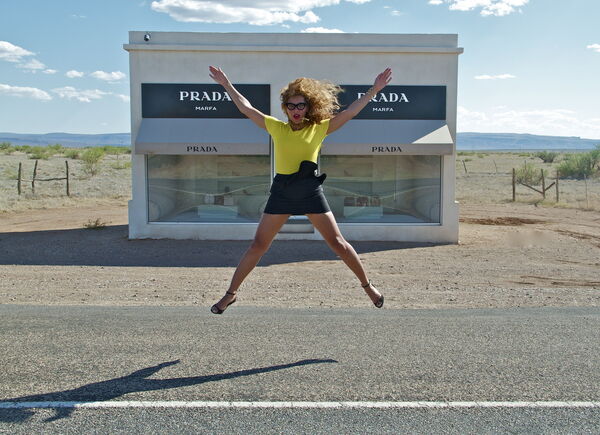 Beyoncé poses in front of Prada Marfa
After weeks and weeks of not being able to catch a glimpse of Beyoncé, the singer put the icing on the cake after filming her "I Was Here" music video at the United Nations yesterday, by posting a plethora of photos on her Tumblr. Over the course of an hour or so, Beyoncé gave us many photos showing us how a southern girl gets down.
Most of the photos were of a recent all-girls trip that Beyoncé took to the Texas desert with her sister Solange, cousin Angie and a few other notables. One of the stand-out photos of the set is of a tiny Blue Ivy drinking out of her bottle while rocking a "Watch the Throne" tour onesie with the tour dates printed down the back.
Beyoncé also shares some other family photos including moments with her husband Jay-Z and nephew Julez, and also a few photos from when she attended the Hackney Wireless Festival a few weeks back.
Click photos to enlarge:
Photo(s) source: iam.beyonce.com
Ad blocker interference detected!
Wikia is a free-to-use site that makes money from advertising. We have a modified experience for viewers using ad blockers

Wikia is not accessible if you've made further modifications. Remove the custom ad blocker rule(s) and the page will load as expected.