June 23, 2012 - Discussion: What's Next for Beyoncé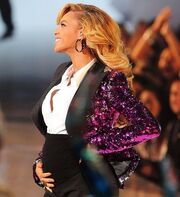 It's no hidden fact that
Beyoncé
is one of the hardest working women in the music industry, if not,
the
hardest working woman. Since her record-breaking, jaw-dropping performance of
"Love on Top"
at the 2011
MTV Video Music Awards
where her pregnancy was revealed, promotion for
'4'
slowed down to a hault in preparation of the birth of
Blue Ivy
.
Blue was born in January 2012, and roughly two months later it was announced that Beyoncé would be getting "back to business" with a 3-night (which turned to 4 nights due to high demand) concert series at Revel Resort in Atlantic City, New Jersey. It was evident that fans were nearly dying to see Beyoncé back in action as all four nights of the concert series sold out in minutes. Queen B was working just as hard on her end, getting back in shape, learning new choreography and planning the look and feel of the show.
After Beyoncé's short stint at Revel ended, she flew to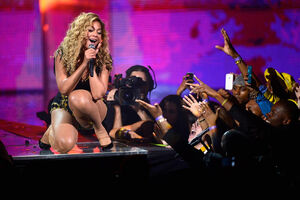 Europe to be with her husband
Jay-Z
as he and his music partner
Kanye West
embarked on the European leg of their
"The Throne"
tour. We've seen many videos and photos of Beyoncé enjoying herself with her family overseas and it's great that she is getting out and living her life!
Soon, Beyoncé will be back in the United States but it is sort of unclear as to what's next for her. Some fans want her to continue with the '4' era and release "End of Time" as an international single, some want a new DVD of the concerts at Revel and others want her to focus on the three new movies that she has on her agenda for the next year, including Epic, One Hit Wonders, and A Star is Born.
As a fan, what do you think should be next for Beyoncé when she returns to work (not saying that she isn't already working on something(s) major)?
Ad blocker interference detected!
Wikia is a free-to-use site that makes money from advertising. We have a modified experience for viewers using ad blockers

Wikia is not accessible if you've made further modifications. Remove the custom ad blocker rule(s) and the page will load as expected.