July 2, 2012
In what turned out to be a fabulous evening, Beyoncé took home two awards at this year's BET Awards. Out of a total of six nominations, Beyoncé won in the category for Best R&B Female and Best Video Director alongside her sister Solange's boyfriend, Alan Ferguson, for directing Party.
Queen B delivered a heartfelt acceptance speech after winning best R&B female, thanking BET for "always giving R&B a home." After winning in the category for best category, Solange took to Twitter to share her excitement,stating, "Go Alan!!! Go Sis !!!"
Although Beyoncé and Jay-Z arrived late to tonight's affair due to being stuck in traffic, BET was sure to keep the camera on them all night! (Thanks, BET!) Beyoncé danced and sang along to every performance, even mouthing words to Nicki Minaj's single, Beez in the Trap.
Nearing the end of the show, The Throne (Jay-Z & Kanye West) battled it out against Beyoncé in the category for Video of the Year with two separate nominations for each party. The Throne walked away with the silver statue, thus getting a not-so-friendly yet playful gesture from Beyoncé. To add on to the victory, while sharing their acceptance speech, Jay-Z interrupted Kanye West's moment to say "Excuse me Kanye, I'm gonna let you finish but..." PRICELESS.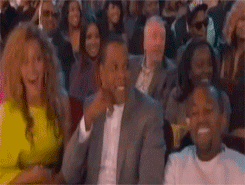 Ad blocker interference detected!
Wikia is a free-to-use site that makes money from advertising. We have a modified experience for viewers using ad blockers

Wikia is not accessible if you've made further modifications. Remove the custom ad blocker rule(s) and the page will load as expected.