May 21, 2012
The
2012 Billboard Music Awards
have just ended in Las Vegas, coming up a bit short since
Beyoncé
left the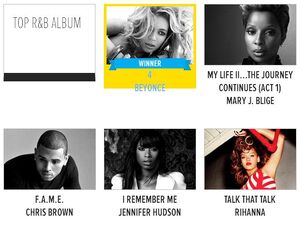 world talking with a flawless performance of
"Run the World (Girls)"
at last year's ceremony. Beyoncé, who was nominated for
Top R&B Artist
and
Top R&B Album
, was not present for the star-studded affair but regardless of her presence, she will still be adding the award for
Top R&B Album
to her expanding trophy cabinet.
As the award season continues, the 2012 FiFi Awards is set to take place at New York City's Lincoln Center where Beyoncé's fragrance "Pulse" is nominated for Best Packaging of the Year and Fragrance of the Year. Beyoncé is not expected to attend as she has been spotted in Atlantic City, New Jersey, more than a week before she takes Revel Resort's' 'Ovation Hall by a storm.
In case you've forgotten, Queen B headlines the grand opening of Revel Resorts with a 4-night concert series this Memorial Day weekend. Due to high demand and tickets for the first 3 shows selling out in under one minute, a fourth show was added. The show is said to be not like any other Beyoncé concert in the past and R&B newcomer Luke James is rumored to open the shows.
Just weeks ago, Beyoncé told a reporter at the Met Gala that she would be "calling on Sasha Fierce" for the upcoming shows. We're certain that this will be nothing to miss!
Congratulations AND good luck, Beyoncé!
Ad blocker interference detected!
Wikia is a free-to-use site that makes money from advertising. We have a modified experience for viewers using ad blockers

Wikia is not accessible if you've made further modifications. Remove the custom ad blocker rule(s) and the page will load as expected.