February 7, 2012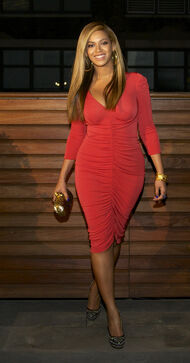 Following the announcement of her pregnancy at the
2011 MTV Video Music Awards
in August, Beyoncé has stayed out of the public eye (for the most part). Shortly after 12 AM EST today,
Beyoncé Online
published not-so-candid photos of Beyoncé out publicly for the first time since giving birth to Blue on January 7, 2012.
Take January 7th and fast forward thirty-one days, the mother of one debuted her post-pregnancy body at Carnegie Hall in New York City, where husband Jay-Z performed a history-making concert. Later in the night, she was spotted at the after party which took place at Jay-Z's 40/40 club. In the photos, not only does Beyoncé look fit, she looks completely happy and healthy.
Following the pictures being posted, Beyoncé's stylist Ty Hunter took to Twitter to boost the excitement of Beyoncé's return, exclaiming, "SHES BAAAAACK!!!!!!!!!!!!!!!!" We're pretty sure he is just as excited as we are! Almost immediately, "#BeyonceIsBack" became the number one worldwide trending topic on the social network.
Coincidentally, February 7, 2011 marks the day that Blue Ivy Carter turns one month old. We wish Blue a happy one-month-old day and congratulate Beyoncé and Jay-Z once again.
Lastly...welcome back Beyoncé!
Take a peek at photos of the hot mama!
Ad blocker interference detected!
Wikia is a free-to-use site that makes money from advertising. We have a modified experience for viewers using ad blockers

Wikia is not accessible if you've made further modifications. Remove the custom ad blocker rule(s) and the page will load as expected.