February 22, 2012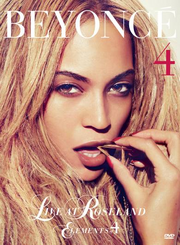 On February 14, 2012, the
Recording Industry of America
certified
Beyoncé'
s latest concert DVD, '
Live At Roseland: Elements of 4'
, platinum. This feat denotes shipments of more than 100,000 copies for '
Roseland'
.
During the 4 era, we've experienced what seems to be the slowest sales of Beyoncé's solo career, in general. Since its June 2011 release, 4 has sold in the neighborhood of 1.4 million copies in the United States.
However, I should mention that these sales are slow only judging by the standards of the queen herself. Many seasoned artists have yet to match this level of success, and resort to controversy and oversexualization to sell their music. Also, we know that whatever Beyoncé touches turns to...platinum. From perfumes, movies and albums, she remains as one of the best entertainers in past or present-existence.
Beyoncé deserves to do what she pleases at this point in her career, and hopefully with album number five on the horizon, all fans will be on the same page. Let's appreciate the art before us.
Comment! What do you think? Are you proud of Beyoncé?
Ad blocker interference detected!
Wikia is a free-to-use site that makes money from advertising. We have a modified experience for viewers using ad blockers

Wikia is not accessible if you've made further modifications. Remove the custom ad blocker rule(s) and the page will load as expected.