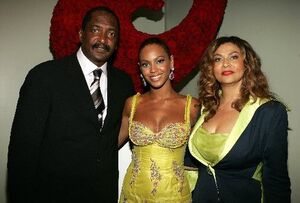 Mathew & Tina Knowles
Edit
Beyoncé was born to Mathew and Tina Knowles on September 4, 1981 as the couples first of two daughters. The two were married for 31 years before divorcing in December 2011.
Beyoncé's father served as her manager for a large part of her group and solo career. In 2011, she parted ways with her father as her manager and began managing herself through her company Parkwood Entertainment.
Her mother was also integral in her career, from designing event and tour costumes to co-founding their clothing line, House of Deréon, in 2006.
Today, Mathew is still managing up-and-coming artists through his company Music World Entertainment and teaching various courses about the music industry.
Tina is a fashion designer and businesswoman. In 2015, she married actor Richard Lawson, thus officially becoming Tina Knowles Lawson.
Ad blocker interference detected!
Wikia is a free-to-use site that makes money from advertising. We have a modified experience for viewers using ad blockers

Wikia is not accessible if you've made further modifications. Remove the custom ad blocker rule(s) and the page will load as expected.