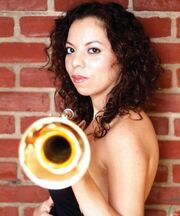 Crystal Torres is a singer songwriter and trumpet player in Beyonce's touring band The Sugar Mamas.
Biography
Edit
Crystal Torres has worked with Grammy award winning artists like Beyonce, Cee-Lo Green, Jennifer Lopez, Stalley, Keri Hilson, Lupe Fiasco and Trisha Yearwood. She has performed extensively nationally has well as internationally, including two White House performances for US presidents. Aside from songwriting collaborations, Crystal's artistry continues to flourish with the release of her self-produced, debut album, "Life Lessons: Vol.1, and her sophomore follow up project set to be ready in the Spring of 2013.
Ad blocker interference detected!
Wikia is a free-to-use site that makes money from advertising. We have a modified experience for viewers using ad blockers

Wikia is not accessible if you've made further modifications. Remove the custom ad blocker rule(s) and the page will load as expected.