"Let freedom ring!"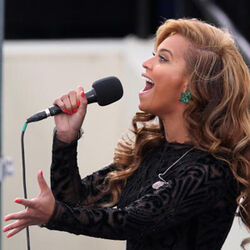 The nation unites in honor of Inauguration Day, Monday, January 21, 2013. President Barack Obama takes the oath of office for the second time during the 2013 ceremony, which also includedf musical performances by James Taylor, Kelly Clarkson, and Beyoncé.
The National Anthem
Edit
Beyoncé performs a moving rendition of the National Anthem the 2013 inauguration.
Controversy
Edit
Following the performance, a huge controversy came about after members of the US Marine Band hinted that Beyoncé may have lip synced the song due to weather conditions not being suitable for singing and the fact that she did not have the opportunity to rehearse with the band. While she has yet to comment on whether or not the performance was pre-recorded, several fellow singers have already jumped to the singer's defense, including Aretha Franklin, Alicia Keys, Jennifer Lopez, and Michelle Williams.
Photos: BeyonceLite